Sanskrit Scholar - Kala Nath Shastry
---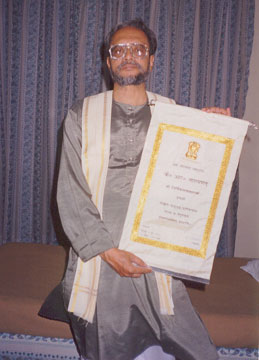 Versatility is a distinguishing feature of Kala Nath Shastry. He has to his credit a chequered career, starting with an ardent pursuit of traditional Sanskrit learning, Indian Aesthetics, Comparative Linguistics, the Vedas & Shastras under the tutelage of celebrated Sanskrit scholars like his own father Bhatt Mathura Nath Shastry, Giridhar Sharma Chaturvedi, Pt. Pattabhi Ram Shastri, Pt. Hari Shastri, and Jagdish Sharma, he mastered linguistics and aesthetics of Sanskrit, and also studied in their entirety the literatures of Hindi and English.
After doing his postgraduation in English he taught English Language and literature at the Postgraduate colleges of the University of Rajasthan for 8 years, then took over the administration of official language as Deputy Director and later the Director of Bhasha Vibhag( Directorate of Official Language) of the Government of Rajasthan from which position he retired in 1994.
Numerous awards and recognitions kept coming his way for his masterly and authoritative knowledge of, and invaluable contribution to, the great Indian languages, Hindi and Sanskrit. The zenith of recognition for his extremely valuable contribution to the mother of all languages, Sanskrit, was reached when he was recognized by none other than the hon'ble President of India, Dr. K. R. Narayanan in 1998. He was bestowed upon with "Rashtrapati Puraskar", the most prestigious award in India in this category, for his unmatched contribution to Sanskrit.
A down to earth man, inspite of his unmatched masterly knowledge of Hindi and Sanskrit, Devarshi Kala Nath Shastry has been a source of inspiration for many. His pupils and contemporary scholars themselves masters in their own rights, respect his depth of knowledge and still draw valuable advice from him. His contribution to Hindi and Sanskrit has already been written in golden letters in the annals of the languages. People like him are born one in a lifetime, and it has been an honour and pleasure for all those who have been associated with him in any way.
Contact him by email at shastrykn@hotmail.com.
Physical Contact Information:
C-8 Manju Nikunj, Prithviraj Road
C-Scheme, Jaipur 302001
Rajasthan, India
Phone: 91-141-376008